Den Williamska ordspråksboken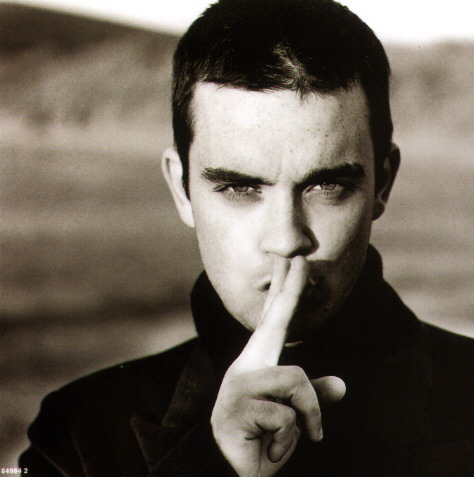 Ska alldeles strax lägga ner Robbie Williams. Men det finns så vansinnigt mycket mer han säger som jag skulle kunna skriva långa, långa rader om. Så – så här i slutet av den Robbieska temaveckan erbjuder jag härmed en liten ordspråksbok á la Williams. Grotta ner dig djupare själv, killen har saker att säga mitt i vansinnet.
Om viljan att se längre än på det invanda, och det svåra i att tala om Sanning med stort S:
When you think we're lost
We're exploring
What you think it's worthless
I'm adoring
You don't want the truth
Truth is boring
– Tripping
Oh it hurts when you're too blind to see
Please don't read my mind I tell the truth to me
Mer om den där längtan efter den stora kärleken:
Yeah turn down the love songs that you hear
'Cause you can't avoid the sentiment
That echoes in your ear
Saying love will stop the pain
Saying love will kill the fear
Do you believe
You must believe
When there's no love in town
This new century keeps bringing you down
All the places you have been
Trying to find a love supreme
A love supreme
– Supreme
When my heart is broken, there is nothing to break
– Tripping
Som tolk för den generation han själv företräder, som var unga nånstans runt förra sekelskiftet:
Run around in circles
Live a life of solitude
Till we find ourselves a partner someone to
Relate to
Then we'll slow down
Before we fall down
We've got stars directing our fate
And we're praying it's not too late
'Cos we know we're falling from grace
Millennium
Live for liposuction
And detox for your rent
Overdose at Christmas
And give it up for Lent
My friends are all so cynical
They refuse to keep the faith
We all enjoy the madness
'Cos we know we're going to fade away
–       Millenium
All we've ever wanted
Is to look good naked
Hope that someone can take it
God save me rejection
From my reflection,
I want perfection
Praying for the rapture,
'Cause it's stranger getting stranger
And everything's contagious
It's the modern middle ages
All day every day
And if Jesus really died for me
Then Jesus really tried for me
–       Bodies
Om den ytligaste formen av passion. Om den ständiga jakten på tillfälliga förbindelsen där den stora rädslan är att någon ska falla dit. På allvar. Och mer än för stunden :
You see the trouble with you
Is you're in love with me
What a strange thing to do
What a brave place to be
There's no U in tomorrow
A better offer came through
You see the trouble with you
There is no trouble with you
So when you say that you love me
That stops me loving you
If you won't leave me baby
I'll find someone who will
I tried love
I'm sorry
I tried love
Och, i samma ämne, med en tydlig klackspark till de där Jesustroende igen:
Sin sin sin look where we've been
And where we are tonight
Hate the sin not the sinner
I'm just after a glimmer of love
And life deep inside
Hush hush hush
To speak is a sin
And neither of us need rescuing
Just relax
It's what Jesus would do
We're made in his image baby
Let's ride this thing through
Oh it hurts when you're too blind to see
What about us? Well it was just for me
Om att hantera det offentliga kontra det privata. Den ytliga bekräftelsen med tomheten i bröstet. Har en känsla av att det finns en och annan kristen ledare som lätt skulle kunna sjunga med i raderna i "Strong" när man väl klivit av estraden. Eller som hoppas på att ingen ska se vem man är där, bakom fasaden: 
Early morning when I wake up
I look like Kiss but without the make up
And that's a good line to take it to
The bridge
And you know and you know
'Cos my life's a mess
And I'm trying to grow so before
I'm old I'll confess
You think that I'm strong you're wrong
You're wrong
I'll sing my song my song my song
My bed's full of takeaways and fantasies
Of easy lays
The pause button's broke on my video
And is this real 'cos I feel fake
Oprah Winfrey Rikki Lake
Teach me things I don't need to know
– Strong
I'm contemplating thinking about thinking
It's so overrated just get another drink in
Watch me come undone
They're selling razor blades and mirrors in the street
I pray that when I'm coming down you'll be asleep
If I ever hurt you your revenge will be so sweet
Because I'm scum
And I'm your son
I come undone
I'm not scared of dying I just don't want to
If I stop lying I'd just disappoint you
I come undone
Give in and love it, what's the point in hating me?
You can't argue with popularity
Well you could but you'd be wrong
If you drop me
I'll fall to pieces on ya
If you don't need me
I don't exist
You voted for me
Now let me see a show of hands
cause here before you stands
the world's most handsome man
It's not very complicated
I'm just young and overrated
Och tillbaka till hoppet, till förhandlingen med Gud själv, till längtan efter nåt större här i världen:
It'll come in your sweet time Lord
I've just got to let you in
The blind leading the blind Lord
Getting underneath your skin
I can feel you in the silence
Saying let forever be
Love and only love will set you free
When I'm feeling weak
And my pain walks down a one way street
I look above
And I know I'll always be blessed with love
And as the feeling grows
She breathes flesh to my bones
And when love is dead
I'm loving angels instead
– Angels